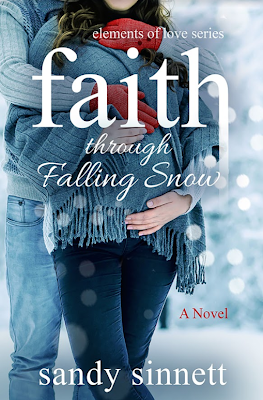 Publisher: 5 PRINCE PUBLISHING
With Laci and Mitch anxiously awaiting the arrival of a new baby, they are surrounded by the turmoil of discovering Mama's illness while their two sons fight over the love of a woman.
A white Christmas brings a moment of joy, but Laci's faith is tested again when their baby clings to life.
Together the Young family must lean on each other and the only One who can truly give them strength.
Will they find the faith they need…even though the snow?
1. The fall season hadn't fully made its way to North Carolina
yet, but Laci was already looking forward to the thought of
winter and the hope of falling snow. Her love of the rain, even
in frozen form, hadn't wavered. She loved the snow; watching it
fall to the ground with grace and elegance and marveled at the
thick blanket of white; so quiet that it absorbed even the
smallest of sounds or the loudest of thoughts. After her breast
cancer, a miscarriage, and almost losing Hannah, her new
sister-in-law, Laci's faith had been tested over, and over again.
Through it all, she and Mitch had weathered every storm
together. It made them stronger in many ways, and although
hard to imagine, even more in love than the day they married.
Laci couldn't imagine her life without him by her side. He was
the love of her life and her best friend, the one that carried her
when she couldn't carry herself. He reminded her, daily, that
God brought them together, and together they would face life
head-on, loving and laughing all the way; even through the blizzard
that was headed directly toward them.
2. MAGGIE and her Ladies Auxiliary friends took turns sharing
stories and laughing together around the dinner table at Max's
Place, their favorite restaurant in town. Maggie yawned,
suddenly quite tired, and decided to leave a little early.
"Hey ladies, I think I'm going to head home if you don't
mind." She stated.
"You feel okay, Margaret?" Gladys asked, one of her dear
friends.
"I'm starting to feel my age, I guess. Kind of tired tonight."
"Well, be careful driving home," Gladys replied.
"I will. I'm so sorry about my blunder earlier tonight."
"It's okay! It happens to the best of us, Mags!" Another friend
replied.
Maggie stood up from the table, grabbed her purse and
started to walk away, but stopped and turned around. "By the
way Janet, please tell Leo I said hello, okay?" And she walked
away.
Gladys and the ladies all looked at one another with a
puzzled look on their faces, bewildered by her comment.
"Gladys, Janet hasn't been at this table in over ten years. And
who is Leo?" One of the ladies asked the group.
"Leo was Janet's first husband, over twenty years ago."
Gladys replied. Most of the ladies wouldn't have known that,
except for her and Maggie since they were in the original group.
At that point, Gladys was now quite worried about Maggie's
state of mind.
"I'm sure she was just tired and a little confused. It happens
more and more at our age, unfortunately." Helen added, then
changed the topic.
The ladies continued to banter on about this and that after
Maggie left, enjoying their dessert, but after a while Gladys
couldn't ignore the gnawing feeling in the pit of her stomach
that something wasn't right.
"I'm going to step outside and make sure Maggie made it to
her car, ladies. I'll be right back." Gladys announced. Once
outside, she looked down both streets to ensure Maggie had left.
As she feared however, she spotted Maggie's car parked on the
adjacent street. She walked over to the car and put her hand on
the hood. Cold. She had never made it to the car, and Maggie
was nowhere in sight.
3. At first, she thought she was just seeing
things. Another appeared, and then another. Laci looked up and
smiled, then closed her eyes and tilted her head back so she
could catch them in her mouth as they fell. She felt like a little
kid and wanted to spin around but knew her body wasn't really
up for that. The flakes grew larger, falling faster and faster and
her face was now wet from the melted snow. When she opened
her eyes however, the few soft snowflakes had turned into flurries,
a veritable snowstorm in a few short minutes. She gasped
with delight. "Let it snow!" She yelled with joy, holding out her
hands and walking around in circles. It reminded her of a day,
not long ago, when she had danced in the rain and asked God to
heal her cancer.
"It's snowing!" Travis yelled, running to the window. "Can I
go outside with mom?" He asked.
Mitch raised his eyebrow. "What are you talking abou—?"
Mitch turned to the window and saw Laci standing in the snow.
"What in the world is that woman doing?"
Immediately, he tore out the back door.
"Laci Jean!" He shouted as he ran down the deck stairs
toward her.
"It's snowing, Mitch! It's really snowing!" She shouted with
excitement and turned toward him, but as she did her foot
slipped on the snow-covered grass. Her legs gave way.
"LACI!"
1. Laci's faith had only grown stronger through all the trials that she and Mitch had faced in the past, and the one that lay ahead would be no different. Maggie's episodes were growing worse, not better, and Laci felt a deep sense of sadness when she thought about her condition. She needed to tell Mitch the truth once and for all, but struggled with the promise she had made to Maggie. Still, it was getting harder and harder to hold it in.
2. MAGGIE SHIVERED. Her legs ached and she felt as heavy as though sandbags were being dragged behind her as she walked down the dirt road, dazed and unaware of her surroundings. Then, as if woken from a deep sleep, she suddenly stopped, blinked several times, and started searching around for some‐ thing familiar. There was only darkness in every direction.
3. The road was damp. To her right, trees. To her left, trees. Her heartbeat sped up as she peered down the dirt path in front SANDY SINNETT 116 of her. No cars. No lights. Only a thick shroud of darkness surrounded her.
#1 – Do You See Writing as a Career? – I would love to say yes, but as of yet, I'm not quite able to see that dream come to life. Until then, I'll keep writing for fun.
#2 – What was the Hardest Part of Your Writing Process? – The hardest part was carving out time in my life for writing as a single mom with a full-time job, but I did it. As far as the writing process itself, the hardest part was creating characters from thin air and not having any basis on someone I knew or had known personally. Creating pure fiction is much harder than I imagined at times.
#3 – Did you have any One Person Who Helped You Out with Your Writing Outside of Your Family? No
#4 – What is next for your writing? Another novel, but no more series. The next novel is called, The Coffee Shop Diaries. A stand-alone book about a single mom who begins life again post-divorce while raising two teens and running a coffee shop and wine bar. All the horrible dates, family drama, and crazy antics from her coffee shop regulars that add to her journey until she bumps into the love of her life outside her own shop.
#5 – Do you have an addiction to reading as well as writing? If so, what are you currently reading?
Yes; Lady Midnight by Cassandra Clare
DESCRIBE Your Book in 1 Tweet: This Christmas brings a blanket of snow, wrapped up in the joy of new love and new life, but challenges lay ahead. Secrets unfold. Life is lost…and faith is found through it all.
#2 – Chocolate or Vanilla? chocolate
#3 – Mashed Potatoes or French Fries? McDonalds FFs
#4 – Comedy or Drama? Comedy
#5 – Danielle Steel or Nicholas Sparks? Danielle Steel
#6 – Fantasy or Reality? Definitely Fantasy!
#7 – Call or Text? Text first lol…
#8 – Public School or Home School? Public
#9 – Coffee or Hot Chocolate – ALWAYS Coffee
#10 – eBook or Paperback? Paperback
About the Author
Sandy lives in her hometown of Mt. Vernon, IL enjoying life with her two youngest kids, and works full time for a local hospital as a health consultant. Most mornings she can be found at her local bookstore-coffee shop among friends, looking for inspiration and writing her next novel.
a Rafflecopter giveaway